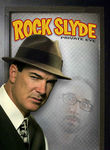 I've posted about independent movies a few times, and here's another one. It came to my attention via
Jason Manns
, my favorite musician, who also happens to be a producer and actor and is involved in this movie.
Rock Slyde
is a hardboiled detective comedy featuring Patrick Warburton, Andy Dick, Rena Sofer, and Elaine Hendrix. I don't think it got wide release in the theaters, but it's coming to on demand in April and DVD in May.
It's available for queuing up on
Netflix
now, and the more pre-release requests it gets, the better. So check it out!